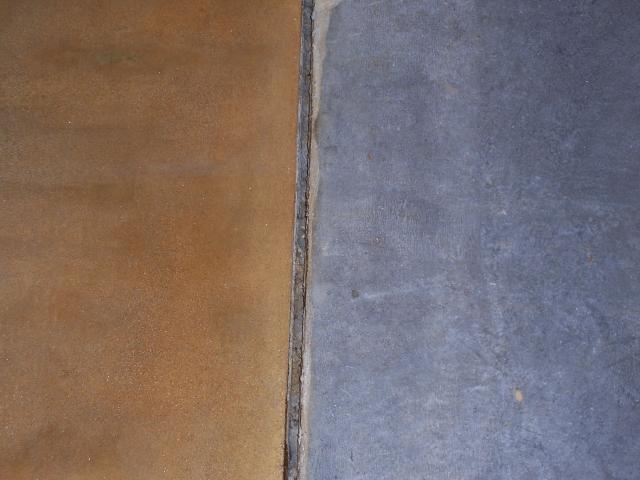 Brickform's Blush-Tone Acid Stains create unique colors by means of the chemical reaction between the stain and the concrete itself. This reaction often creates a patina effect further enhancing the uniqueness of each project. Multiple colors may be applied sequentially for a beautiful one-of-a-kind outcome.
Brickform's Artesian Water-Based stains are available in a wide variety of colors and are easy to work with. Because of the ease of application, water-based stains are ideal for accenting stamped concrete for a secondary color presence such as individual stones within a texture stamp pattern. These stains can be hand-dabbed with a rag or brushed into place and any drips are easily cleaned up with a damp rag.
For optimum results from any stain project the concrete must be clean. Any pre-existing concrete sealer must be completely removed before stain can be applied. Interior trowel-finished floors should be "opened up" with a 100-150 grit sanding screen used with a floor polisher. This will permit the stain to better penetrate the concrete for a strong dramatic effect.
Please see our Blush-Tone Acid Stain and Artesian Water-Based Stain color charts below.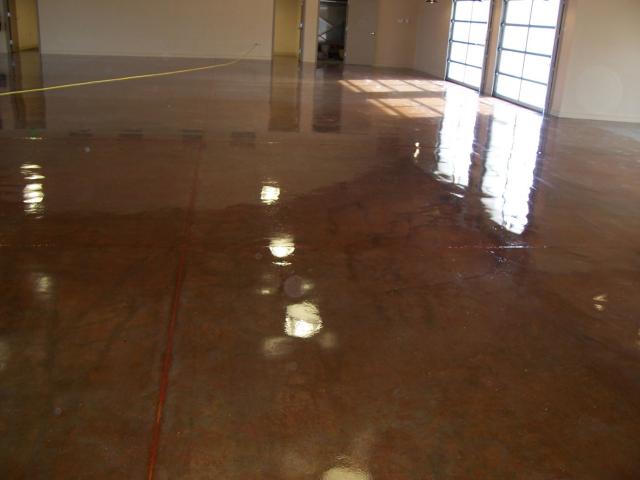 Brickform's Pro-Dyes are used to add color to interior floors. Dyes are mixed with acetone and applied with special acetone resistant sprayers. The dye is absorbed into the concrete without any chemical reaction.
Brickform's Pro-Dye dries quickly and will not peel or chip. Any of the 26 colors can be combined or overlaid for truly unique results. Pro-Dyes are not UV stable and should not be applied to surfaces which receive direct sunlight. Please see our Pro-Dye color chart below.


Beautify existing concrete surfaces with our wide variety of concrete stains and dyes. Great Plains offers penetrating water-based reactive stains that actually create a chemical effect with concrete, dyes that are ideal for interior projects, and more. Proper surface preparation is always important and these products should be applied to fully cured concrete (28 days after it is poured and finished). Call Great Plains at 913-385-9121 with questions.
Brickform's Artesian Water-Based Stains penetrate concrete and decorative overlays to create a color effect unique to each surface and can be used on interior or exterior projects.
Blush-Tone Acid Stain will react differently with each concrete surface and every finish style (trowel, stamp, or broom). The random, variated look will be uniquely yours. If you are not sure which colors are right for your project, test your surface with the Blush-Tone sample kit. Note: Blush-Tone Acid Stains are corrosive. Wear protective clothing and avoid contact with skin, eys, and clothing. Do not breathe vapor or mist.
Brickform Blush-Tone Acid Stains are used to color concrete surfaces with a varigated and mottled appearance. The final effect is random and will vary from one project to the next. Normal coverage is about 200 square feet per gallon.
This Brickform water-based stain is ideal for restoring and rejuvenating weathered and worn concrete. Freestyle Pro Highlighter is also an environmentally-friendly way to create new color styles for your decorative concrete project. UV stable and dries quickly.
Freestyle Pro Solid-Color Stain
Brickform Freestyle Stain penetrates and bonds with concrete surfaces. The opaque stain changes or restores previously colored surfaces. It may be applied over cured concrete surfaces, concrete pavers, and/or block. Large kits cover approximately 200-400 square feet.
Brickform Pro-Dye is a translucent dye designed to penetrate concrete creating a layer of vivid and unique translucent color. The result is a quick drying colourant that will not crack or peel. A great choice for trowel finished and non-porous surfaces.
Stained Concrete